One of my New Years resolutions is to create a custom design for this blog. One slight problem is that I'm more of a developer than a designer. Give me an image and I can slice / dice, write the css and develop the theme quite easily. Here's the killer, blank space frightens me.
To start my steep template designer learning curve I went on the hunt for tutorials. Luckily a lot of the feeds I read have a lot of tutorials to stat me off. Here's some links to photoshop wordpress theme tutorials.
Sixrevisions
Here's a few photoshop design tutorials from six revisions. This first one is a clean blog design with a large header and main content area with sidebar for sponsors.
This design is made appealing by the use of the coordinated large black header and footer. It delivers a minimalist theme which could be used on a variety of blogs.
This is my personal favourite of the three and I'm sure it will come in useful for the redesign. It uses the 960 grid system to design a minimalist blog layout.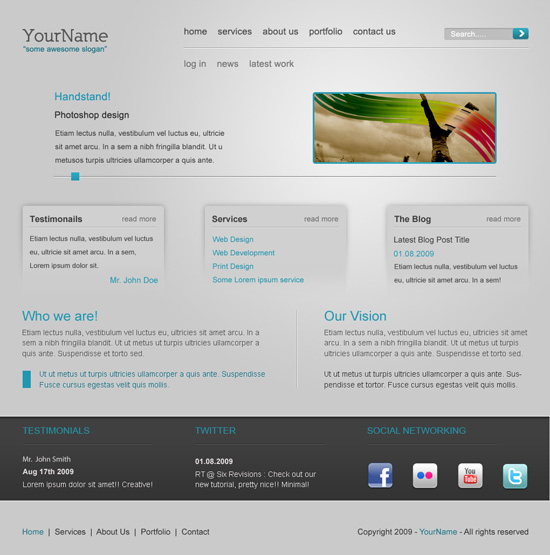 Ultimate design roundup from hongkiat – A comprehensive list of tutorials for wed design. Even though they're not specific for wordpress they provide good inspiration to generate templates in photoshop.
Photoshop to wordpress from scratch – A tutorial detailing the full process of creating a blog design in photoshop then implementing it in wordpress.
List of wordpress framework tutorials from Smashing magazine.